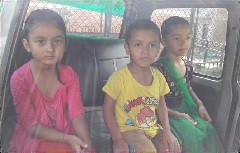 I arrived at the international Tribhuvan airport of Nepal. It took a while before I recognize the beautiful faces of my colourful host family. After finishing a big donut with the children, my friend and host Thakur, is cleaning his hands with utter precision before giving me a big hug. His generosity knows no boundaries towards the children and his guests. I receive a warm welcoming scarf from Himali, Shiva and Akriti (Himali in the green, Shiva in yellow and Akriti in pink).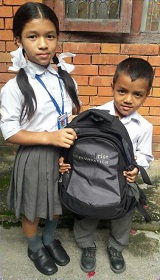 "Ok Lambu (lambu for tall man in NepalI), lets go!" At the parking place we find our taxi driver Kumar having a nap in his little van. It is boiling hot. While opening the window of the minivan there's a bus blowing its exhaust straight into my face. After almost missing a dog on the road and seeing the smiling face of Himali in the rearview mirror, I realise I am home.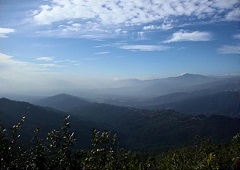 Shiva and Himali, the foundation's sponsored children are doing very well. After several surgeries on their deformed legs, their mobility now increases by the day. A lack of vitamins after birth caused them to suffer from Rickets. Due to poverty and alcohol problems in their parental home their future wasn't very bright. Our warm host family, Thakur and Sharada Dhakal are now taking care of them. School Rise provides them with tuition fees to go to Sunshine School. They're very intelligent and their creative minds are amazing to experience. They fitted right in with their peers at school despite missing some years of education. Every night we are entertained by Shiva doing a fantastic dance from a Bollywood number while the dust is blowing out of one of the old speakers. Sharada is walking rapidly around to take care of all the children and to provide us refreshments, anytime of the day. The family is currently taking care of eight children, two of their own, Arju and Akriti, the sponsored children Shiva and Himali and children from parents working abroad in countries like Qatar and Korea. In the early morning, I find myself awaken by a four stroke single cylinder sound of a Royal Enfield Bullet. Floating on a thundering cloud, I am on this beast making my way from the historic city of Bhaktapur into the mountain ranges. Thakur has a friend who owns my favorite two wheeler, which once, some 70 years ago, was used by my grandfather during the Second World War. This gene continues.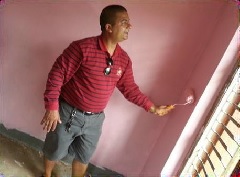 The shrines and temples look more beautiful today than ever before. Thakur and I make our way to higher ground where we visited a primary school, Shree Krishna situated at the foot of the Himalayas in Changu Nay Ran. There is a big contrast with facilities available here compared to the city. We continued our journey, walking on the muddy road filled with plastic and waste. The view of the majestic Himalaya, together with the colourful dresses of the Newari people, compensates for everything. Earlier this year, School Rise held an education awareness program at Shree Krishna school to urge parents to send their children to school (public education is free in Nepal yet many children don't attend school and start working at a very young age). The children received school bags, books, stationary and uniforms. This month, we are tackling the building itself. The classrooms and offices are in desperate need of a clean-up and a fresh coat of paint. The rooms give the impression of ancient bunkers, home to spiders and mold. Today, on one of the floors Thakur is proudly opening the old style French windows. Bright new colours are giving the rooms a refreshing new look. A metamorphosis is currently in place. Our special gratitude goes to, Rupak, Bikash, Roshani, Samir, Suda, Muna, Mahesh, Katalin, Caro, Tine and Geeske (our fantastic volunteers from the Netherlands) and Thakur. The dedicated volunteers continue to do a great job!!