I received a text message from one of our members, Rupak Khadka. "I am not able to participate in the painting program today due to some critical reasons. We shall speak soon regarding the details." Worried about my kind friend, I jumped into the taxi of Kumar Ji. 'What happened?' I thought.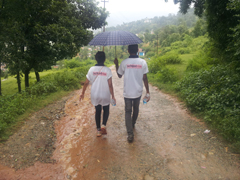 Today we're heading to Changu to proceed with our projects at Shree Krishna Primary School. Together with a new group of volunteers from Friesland (kind of an island in the Netherlands) our taxi driver, Kumar Ji, is steering his little van through bumpy streets and carcasses of dead dogs.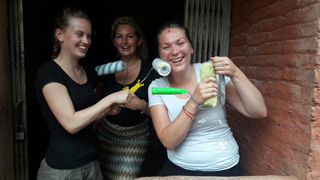 The three young ladies (Tine, Caro & Geeske) arrived a few days ago and are staying with the Dhakal family. Sharada will just have to cook an extra pot of rice. We have gotten used to the Nepal staple food, Dhal Bhat. The famous Bhaktapur Kin Curd ( Nepali yogurt) follows as desert and has a sort of tranquil effect on our gut. This is essential as any undesired effects on our bowels will lead to a very painful experience on a squatting toilet.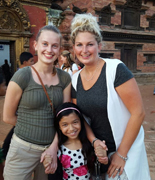 It is always refreshing to arrive in the green sloping hills of tranquil Changu Nayran. This sanctuary was a little pilgrimage village during the 13th century and hosts temples as well as shrines. These days the poverty here is striking. At the school, I shake hands with the male teachers and bow with my hands pressed together to the female teachers as I say Namaste. The nodding with my head creates some mutual understanding between us. Nepal now feels like my second home although I am aware I am a foreigner here. During the walk to the school, my dearest fiancé made a comment that Nepal was never colonized. Perhaps this is what makes the Nepalese have such a relaxing attitude towards foreigners. They have never faced any kind of indignity or suppression by a foreign regime. These days, India and China play politics with the Nepal due to its geographical boundaries. Nevertheless, the Nepalese are generally very kind to visitors.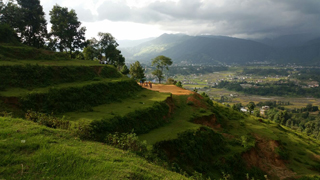 Most of the classrooms are occupied by children, thus we are focusing our attention on one of the empty rooms downstairs. When we open the French windows, the room is immediately filled with a fresh Himalayan breeze and light from the rising morning sun. The view down into the valley is amazing. The light also highlights the tremendous work for the day. Piles of bricks, sand, untidy stacks of tables and chairs covered with dust awaits our attention. The principal smiles nervously and slowly makes his way back to his office. As soon as we lifted the first brick a mouse jumps through the room. This poor little fellow tries to find safety by climbing up the walls while resisting the screaming of one of our volunteers, Caro. Caro climbs onto the desk and her loud squeaky scream moves down stream into the valley. Didi (school cleaner) determinedly smashes her broom on the fragile little creature and flings it out of the window. In another scene, I am on one of the swings outside the school and encounter a group of huge 'jumping' spiders. Caro and I make a deal. I will scare of the mice with 'ksssssttttt' sounds and Caro will support me by exterminating the spiders with a bamboo stick. Their good life in that school has now come to an end.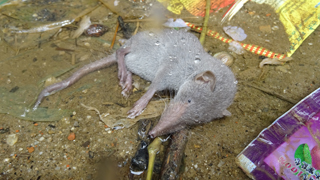 The cleaning starts. Our presences captures the attention of a few children who tries to get a glimpse of the dedicated volunteers at work. We protected our mouth with a mask and hands with gloves. Brick by brick, we emptied the room. It was a heartwarming, labor intense expedition as the once messy room is transformed into a potential classroom. Meanwhile the Nepali teachers are sticking their heads out of the windows from the upper floor to observe our efforts. It does not take long before one of them tells us we are doing it wrong. We are supposed to put the pile of bricks and bags of sand at a different spot. Encouraging him with some gloves, I kindly ask for him to help us. He commands the children to bring the bricks two meters further.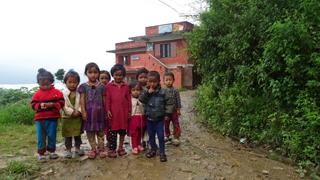 During tiffin (lunch break) Rupak calls me. He tells me his cousin, nineteen years young committed suicide. The boy was sick and had received a kidney transplant. Rupak, with some friends; Bikash and Thakur collected money to finance his healthcare. His body unfortunately rejected his new organ. The night of his death, the doctors spoke to his parents about his concerning situation. It is heartbreaking for his family. Unfortunately this is a common occurrence in Nepal. Due to lack of money and affordable health care many patient decide to end their own lifes so that they do not burden their families financially. Later that night, Thakur tells us a disturbing story of villages in Nepal where people are lured into selling their organs for a few extra rupees.